Rh Waste Retrieval System
What are the benefits?
removes waste particulate

eliminates solid and soluble pond pollution

reduces soluble phosphorous levels

accelerates the transformation of organic wastes into bacterial biomass, carbon dioxide and water

ensures sustainability of closed system fresh water fish rearing sites

allows aquaculturalists to maximize their site's biomass capacity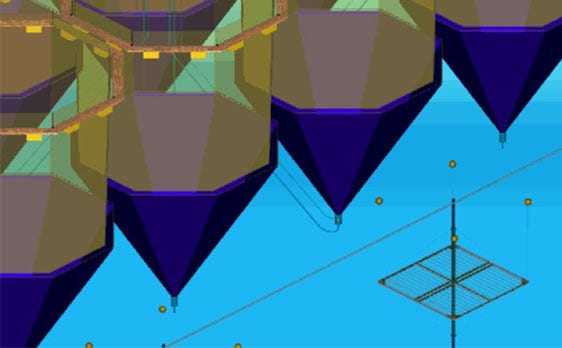 Aquatech recognizes the necessity of providing the industry with a reliable, cost-effective system for managing fish farm waste. The Province of British Columbia recently announced that all new aquaculture sites must have a waste management system. The RH Waste Retrieval System is designed to remove the waste particulate that descends through the bottom of smolt pen systems. This ultimately improves water quality. 

How does it work?
The system consists of three main components:
(a) weight ring
(b) passage cone (diaper)
(c) header network and pumping system
plus an on-shore storage and treatment tank
The weight ring and diaper are suspended directly below the bottom panel of the pen by 16 polyethylene ropes secured to the pens' deck system. Tag lines from each of the eight corners of the weight ring are used to tie back the bottom panel of the net. This ensures the panel is stretched to its maximum, eliminating sagging from a build-up of waste and/or morts, which in turn cause fouling that restricts flow of waste through the pen into the diaper.
Waste, in the form of un-consumed feed and feces, descends through the pen into the diaper, where it settles into a 15″ diameter, 36″ deep funneled bottom collection cylinder. The collected waste's viscosity is reduced in the collection cylinder by mixing in water pumped from the surface. This allows for easier pumping of waste from the cylinder via a 1 1/2″ suction line to the surface by a diaphragm pump.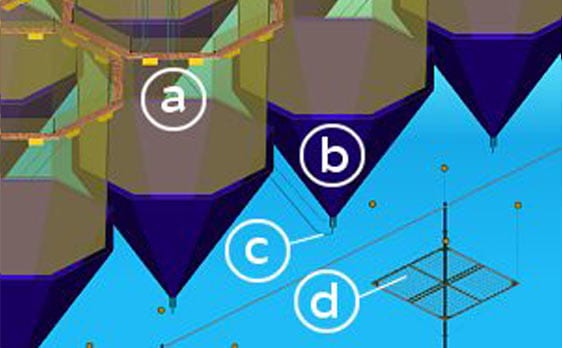 The pens' diaper systems are connected by a surface 2″ header network to a 3″, 5-hp diaphragm pump. Waste is discharged from the diaphragm pump to on-shore treatment and storage tanks.
The RH Waste Retrieval System used in aquaculture is the only one known of its kind. Heritage Aquaculture, a leader in freshwater salmon rearing, uses this system in their Cobble Hill Quarry site.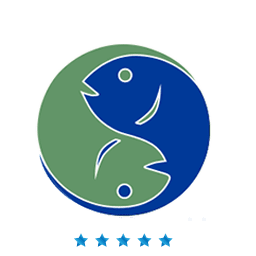 Aquatech Environmental Systems Is Here To Help You

Have a question or want more details?